There are many parents in San Ramon who work full time (wouldn't it be wonderful if we didn't have to?!) and have to commute up and down the 680 (it would be wonderful if we didn't have to do that too!). But there you go – that's life.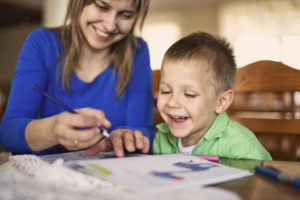 However, it does present a problem when you need a San Ramon kindergarten for your kid – or kids – because the public schools, while they provide it free, only provide half a day. All of which is more or less useless if you work full time. Sure, you might have a relative or friend who could pick your child up and look after him all afternoon, but it's probably not all that likely.
San Ramon Kindergarten Options
This is why so many parents in San Ramon use our San Ramon kindergarten, even though it's not in San Ramon! We're in Danville, but hey! What's three miles between friends? Not only that, we are just off the 680, so you can drop your kid off on the way to work and pick him or her up again on the way home. What could be easier than that?
Our beautiful Danville school which houses our San Ramon kindergarten is built in the style of a Tudor cottage and has no less than eight large classrooms. We take children from as young as 18 months to 6 years old and have designed the campus so that it fits perfectly with the Montessori principles. The Montessori method allows the children to explore the classroom on their own and find something out of the huge range of materials that catches their interest.
It may seem a simple idea, but when they find something that interests them, they want to learn more about it. So it very quickly becomes a way of learning because each child WANTS to learn more about something that he finds interesting. To us, as teachers trained in the Montessori method, that makes total sense. We don't "teach" in the traditional sense because we don't make the children sit down on the floor and listen to us telling them something in which they may have no interest. Rather, we let them find out for themselves.
We also have a huge outdoor playground with trees, and games for them to play, where they can learn about the outside world.
We encourage all parents who are looking for a San Ramon kindergarten to take the short drive up to Danville and to see for themselves just how happy the children are and how well they are developing.