Danville and San Ramon are like two peas in a pod! It's hard to tell where one of them ends and the other one begins. They're only minutes apart after all. All right, San Ramon is bigger, with a population of 75,000 against the 45,000 of Danville.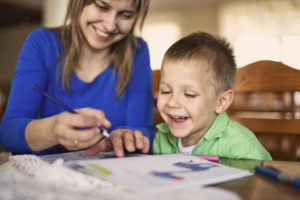 The other difference, of course, is that Danville is one of the few incorporated municipalities in California that calls itself a town instead of a city, but other than that there is hardly any difference. We're excited by that because our Danville Montessori serves children and parents in San Ramon as well, so we call it our Danville and San Ramon Montessori for that reason.
Unlike the public schools, our Danville and San Ramon Montessori is open all year round and not only that opens at 7.00 am and doesn't close until 6.30 pm. Whether you are technically in the town of Danville or the city of San Ramon, our hours are designed to suit busy working parents. We also have a choice of programs so that you can choose to have your child with us for a half day or full day, mornings or afternoons, an after-school program, and we even have a morning care program from 7.00 am to 8.00 am. We provide, you choose.
Learning Becomes FUN
This beautiful campus has eight large and airy classrooms which are filled with Montessori materials and the Montessori method allows the children to roam the classroom and select the things which interest them. This makes learning FUN because no child is made to sit and listen to a teacher talking about something which might bore him to tears, but rather has choice. Now, when learning becomes fun it is something that the child wants to do more. If you think about it, that goes for any of us. Look at your job: you may enjoy it overall, but there are probably some things that you have to do rather than enjoy doing, nonetheless.
At our Danville and San Ramon Montessori we also have mixed age groups in the classroom. What happens is that the older children automatically help out the younger children if they are having a problem with something. This encourages a sense of camaraderie and social responsibility, while at the same time it helps to underscore the learning of an older child.
Whether you live in San Ramon or Danville, or for that matter Alamo, Alamo Oaks, Blackhawk, Diablo, Walnut Creek, or even Lafayette, we encourage all parents to come to our school and see for yourself just how well-adjusted and happy the children are.