Danville is a small, yet friendly and affluent community in the East Bay, and is one of the few in California that describes itself as a town, rather than a city.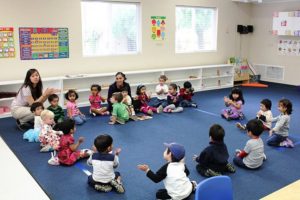 Incidentally, this is different from the UK where every large community used to be a town – unless it contained within it a cathedral. Then it was called a city, such as London, Manchester, York, and so on. Otherwise it was a town, until a very few years ago when the towns of Brighton and Hove formed a unitary authority in 1997 and were granted city status by Queen Elizabeth II in 2001.
However, in most of the US, a conurbation is called a city, even if it only has a relatively small population. Danville, however, has a population of 44,500, which is not large, but still calls itself a town.
Now that we have got that one out of the way (!), if you live in Danville and are looking for Danville, CA, preschools for your child, you can do no better than Learn And Play Montessori which is in Danville, just off the I-680.
Ideal For Parents Who Need A "Commuter-Friendly" Campus
Not only are we a Montessori preschool, but we are also ideal for parents who need a "commuter-friendly" campus. If you choose a public school, there is one big advantage, and that is that it is free. After that, things become very difficult, especially if you have to work for a living, which most people do. There is a very old saying that "you get what you pay for" and it is true of Danville, CA, preschools as well.
Public school hours are very limited, whereas at Learn And Play Montessori we open at 7.00 am and stay open until 6.30 pm. That means that, whatever your hours of work are, you can drop your child off on the way to work and pick him or her up on the way back. Simple. Not only that, since we are only just off the I-680, whichever way you have to commute, it only takes a few minutes to drop your child off and pick him up again.
Equally important, and perhaps more so, is that we use the Montessori method of schooling. Our Danville campus has eight large and airy classroom which are filled with top-quality Montessori materials from which each child can choose whatever takes his interest. Then he can play with it and explore it, and find out all there is to know about it, so the simple fact is that he is learning because he WANTS to learn. This becomes a lifelong habit, and it all starts with preschool.
If you are looking for Danville preschools, in order to learn more about us, drop by and take a school tour. We welcome all parents any time between 9.00 am and 5.00 pm Monday through Friday.