Preschool is fundamental to your child's future. That's why you want to find the best preschool in Danville, San Ramon, or elsewhere in the East Bay. At Learn And Play Montessori Schools we're very proud of our preschools, so please come in for a tour!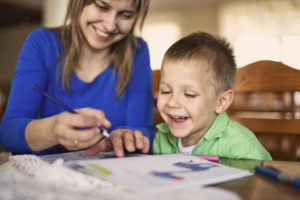 Wherever you are in the East Bay, we have a preschool for your child. We have four campuses in Fremont, in Niles, Peralta, Irvington, and Maple, another one in Dublin, and another in Danville, and we are shortly going to open a new one in South Fremont convenient for both the I-880 and I-680.
All of our preschools have large classrooms and extended windows because we believe that it is important to have as much natural light as possible. Each of the classrooms is packed with Montessori materials of the highest quality, and the children are allowed to wander through the classroom and select from the materials whatever catches their interest. This sets the children off on a lifetime love of learning because they are finding out about something which interests them. This is very different from sitting on the classroom floor listening to a teacher talking. They are learning using all their five senses rather than just listening.
Our teachers keep an eye on what each child is doing and will then introduce them to some new materials when the time is right. All our preschools have large playgrounds which are securely gated so that the children can play outdoors whenever the weather allows.
Convenient For Working Parents in Danville & San Ramon, California
In addition, all of our preschools are convenient for working parents here in the East Bay. We don't keep public school hours. We open at 7.00 am and work right through until 6.30 pm, so whatever your working hours are, we fit around them. Furthermore, we don't close down for nearly three months in the summer: we are open all year round. We really do aim to be the best preschool for you and your child.
At Learn And Play Montessori Schools we believe that children learn best in an environment where their individual and unique capabilities are respected and nurtured and that is exactly what we provide. Our children learn math, writing, art, dance, and come to understand the world around them – the concepts of earth, water, countries, continents, botany, biology, physics, and more. Our classrooms contain a range of different age groups, and the older children will often help the younger ones when they are having difficulty with something. We bring children up to respect the world around them and respect others.
If you want the best preschool for your child, we welcome you to drop in for a school tour and you can see how well the children are doing for yourself.