The city of Danville is a small community but nonetheless is a beautiful one. It has a population of just under 45,000, and it also has one of the best Montessori schools in Danville – Learn And Play Montessori.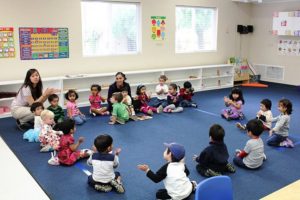 Learn And Play Montessori has no fewer than six schools in the East Bay – four in Fremont, one in Dublin, and now our latest school in Danville. This beautiful and spacious preschool has no fewer than eight large and light classrooms with extended windows, and it is ideal for access from the I-680. So it is perfect for parents who have to commute either from San Ramon in the South or from Alamo or Walnut Creek to the North. We are also easy to access for parents from Diablo, Alamo Oaks, Blackhawk, Tassajara, and Brookshire.
We take children from the ages of 18 months up until six and we open at 7.00 am and don't close until 6.30 pm, so we fit perfectly around your working hours and your commute, whatever time you start and finish.
Our beautiful school has a huge playground with lots of trees where the children can get up close and personal with nature. There is also a special separate area for the toddlers to play in. The playground is fully gated and secure.
Each Child Has Unique Characteristics and Capabilities
The Montessori method is based around the fact that children learn best when they are in an environment that respects their unique individual characteristics and capabilities. Each of the classrooms has a large selection of Montessori materials from which the child can choose to learn about and explore. He or she simply walks around the room until finding something which excites his or her interest.
He can then take it away and play with it and explore it, finding out everything about it, and he can keep on doing this at his own pace. There is no rush with the Montessori method because it understands that all children are different and some simply learn more quickly than others. The teachers keep a close eye on the child, help with anything that he may have a problem with, and when he is ready to move on, he will introduce some further material.
If you are looking for Montessori schools in Danville, we invite all parents to drop in whenever convenient between 9.00 am and 5.00 pm, Monday through Friday.
As you will be aware, we are presently closed because of the Coronavirus epidemic, but we re-open soon and will be back functioning as normal in order to provide your child with the best possible start to his education.