Learn and Play Montessori, a top-rated program for preschool in Fremont, Dublin, and Danville is proud to announce open enrollment for its online Montessori preschool program. While most of the parents and students participating in its online preschool comes from the Bay Area, enrollment is now open to anyone in the United States.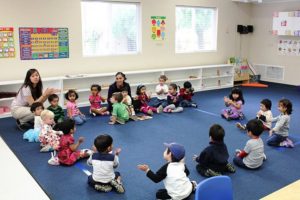 "I am so proud of our students, parents, and teachers as we have transitioned to an online Montessori preschool curriculum," explained Harpreet Grewal, director of Learn and Play Montessori. "We're encouraging parents seeking online Montessori preschool programs to check us out. We offer both paid and zero cost programs via YouTube and Facebook."
Interested persons can visit https://www.learnandplaymontessori.com/remotelearningenroll/ to learn more about the company's online Montessori preschool options. They can also join the daily no-cost live sessions on Facebook at https://www.facebook.com/learnandplaymontessorischool/live or visit the YouTube channel at https://www.youtube.com/learnandplaymontessorischool. And, as California begins to safely reopen after the Coronavirus, those who live in Fremont, Dublin, and Danville can avail themselves of "real world" preschool opportunities as the company has six campuses in the East Bay. Interested parents can call the school of their choice to inquire about when reopening will occur and what slots will be available at that time.
The school's learning methodology is based on the Montessori method. Its trained staff educates the children in a fun, playful manner yet emphasizes so-called STEM learning (science, technology, English, and mathematics), thus combining both the fun of the Montessori method with the basic knowledge skills necessary to excel in today's knowledge economy. Parents who are seeking to create a foundation for lifelong learning excellence have found this particular combination to be uniquely effective.
ABOUT LEARN AND PLAY MONTESSORI
Learn and Play Montessori aims to be one of the best Montessori schools in the greater San Francisco Bay Area. Whether parents are looking for a Montessori School in Danville, a Blackhawk preschool, or a top-rated Montessori School in Dublin / San Ramon, Learn and Play has a campus for their child or children. Bay Area parents searching for Walnut Creek preschool options could find the right fit in Danville. All schools use the famed Montessori method, offering programs from childcare to daycare, preschool to kindergarten, in not only Danville, Fremont, Dublin, or San Ramon but also in nearby towns such as Alamo, Blackhawk, Diablo or San Ramon on the I-680 corridor as well as Walnut Creek.