Danville is a quality environment and is growing rapidly. It's one of the most affluent communities in the Bay Area, with high quality shopping, parks, and even schools nearby. But preschools aren't public, so Danville parents look for quality preschools and that means Montessori. They want the best start for their kids, and Montessori provides exactly that.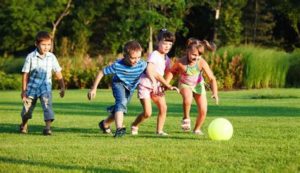 Of the Danville preschools using Montessori, Learn And Play Montessori has an outstanding reputation and reviews on Yelp and Google. We have no less than six Montessori preschools in the East Bay area, four in Fremont, one in Dublin, and our latest one here in Danville, and we are pleased to say that all of our reviews are excellent.
Of all the Danville preschools using Montessori, our campus is rated the best. We are housed in a Tudor cottage style of building with large and airy classrooms with extended windows, because we believe in using as much natural light for the children as possible. There is a very large playground which is separated by age groups and provides the children with the opportunity to learn about nature while they play on the various rides and toys and enhance their gross motor skills.
Natural Materials, Not Plastics
The classrooms hold a huge choice of Montessori materials which, as far as possible, are made from natural materials, and not plastics. Under the Montessori method, each child is allowed to wander the classroom freely and find materials and things which interest him. Our children do not sit down and listen to a teacher talking about something but are free to use their own individuality to select what they want to discover more about, and so the result is that they learn because they want to, rather than because they are being told to. They actually enjoy the process of learning.
Maria Montessori believed that each child is unique, and of course that is true. As such, the child should be allowed to explore and learn rather than being told to learn about something which may hold no interest whatsoever. Is it any wonder that those of us who were taught this way succeeded in some subjects, but failed miserably in others? So in the Danville preschools using Montessori we let the child choose.
This means that there is no pressure on a child to "perform" because each child is doing something different from the next one. It also means that each child proceeds at his own pace. The quicker learners do not get held back because of the slower ones, and the slower learners are not made to feel in any way inferior just because they are slower learners. We believe that is the best way to learn.