San Ramon is an affluent city. In fact, it is one of the riches cities in the Bay area and is just full of wealthy and successful people. But they are the parents.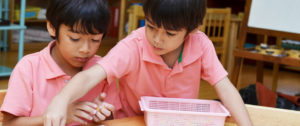 So how do you help your child to become successful and stay successful through life? By learning to love learning, that's how! So if you are a commuter up or down the I 680, and looking for preschools in San Ramon, check out Learn And Play Montessori Schools in Danville and in Dublin. Both are ideal for parents who have to commute from San Ramon.
If you are looking for preschools in San Ramon there are a few, but only a couple of Montessori schools. The very best Montessori schools for your child are the Learn And Play Montessori Schools of which there are our two on the 680 – one in Danville and one in Dublin. So whichever way you commute, you can get the very best Montessori preschool for your child.
The Montessori method of preschools is the very best method out there, because it gets the children to develop a love of learning. Rather than sit and listen to a teacher talking, the Montessori method lets the child choose what he wants to learn and how he wants to learn it. Learn And Play Montessori in Danville is our latest Montessori school (we have four in Fremont as well) and is a Tudor cottage style building with eight large and bright classrooms which have extended windows providing a myriad of natural light to enhance the developmental and academic environment. There is also a very large secure playground outside.
A Huge Choice Of Materials for Learning Fun for Kids
Each of the eight classrooms in our Danville campus has a huge choice of specially designed Montessori materials from which your child can choose. Because the child can make his own choices, he very quickly begins to learn to love learning and exploring. The Montessori method teaches the child to learn by doing, using all five senses, instead of just sitting listening, and our classrooms in Danville are prepared with careful consideration of the children's needs and capabilities.
Each child learns at his own pace and there is no pressure to reach a certain obligatory "target" because there are none. Some children simply learn at a slower rate than others, and that is fine. The quick learners are not held back, because the teachers watch what they are doing and how far they have come, and then at the appropriate time they will introduce them to further materials to explore.
So if you are a parent looking for preschools in San Ramon, book a tour of our Danville or Dublin campuses and come and see for yourself what we do.