You would think that finding the best Danville preschools would be fairly easy, because it is not that big a place after all. However, it is not as easy as it seems because Danville merges into San Ramon which merges into Dublin, and it can all get a bit confusing.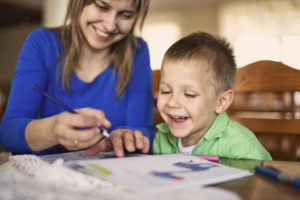 However, the good news is that there is a Montessori school right under your nose in Danville – Learn And Play Montessori at 730 San Ramon Valley Blvd – which is ultra-convenient for moms and dads who have to go to work. Yes, having to go to work is one of those facts of life in the 21st century, but luckily at Learn and Play Montessori we've got your back. We open at 7.00 am and we don't close until 6.00 pm so there is ample time for you to drop off your child, go to work, and pick him or her up again on the way home.
This beautiful and spacious Montessori preschool and kindergarten serves children for 18 months to 6 years old and you can choose from one of several part time, full time, and after school programs. Furthermore, we take pride in our childcare programs, so there is no annual contract. Payment is due on a month to month basis.
The Montessori program at Learn And Play Montessori lets children choose the materials and activities which they undertake, and they learn by doing, rather than sitting down and listening to a teacher, as is the case in other Danville preschools. This gives them the opportunity to solve problems, and thus learn, at their own pace and in their own time. Our teachers watch each child and gradually introduce new Montessori materials for him or her to experiment with when the time seems appropriate. The teacher is a guide rather than an instructor and observes the child's progression and development and then provides the right tools for the child to develop further.
This means that each child develops at his own pace and there is no feeling of competition or worse, failure, because there is never a sense of urgency. The child is doing exactly what he or she wants to do rather than is being told to do, and for that reason develops a love of learning for its' own sake. If you love to do something, you are going to keep exploring it further and finding out more about it, and this is the way that children in Learn And Play Montessori develop their skills.
We encourage all parents who are considering Danville preschools for your child to come and take a look for yourselves and see how happy the children are.