There is a saying that it is never too early to do almost anything, and it is very true. That applies to Danville schooling options too. As soon as your child reaches the age of 18 months or so it is time to get him or her into a preschool to meet and start socializing with other kids and adults, and at Learn And Play Montessori in Danville we can help with exactly that.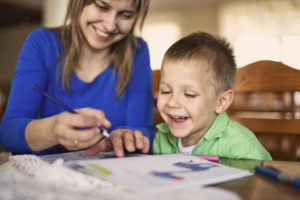 We accept children from the age of 18 months to six years and we open at 7.00 am and don't close until 6.30 pm, so we are an ideal Danville schooling option for parents who have to do the commute. We are also ideally situated geographically since we are just off the 680, so we are convenient for parents from Tassajara, Blackhawk, Diablo, Alamo Oaks, Alamo, Brookshire, Walnut Creek, and even Lafayette.
We operate six preschools in the East Bay area, and Danville is our latest venture set in a Tudor cottage style building which has no less than eight large and light classrooms with extended windows in order to let in the maximum amount of natural light, whatever the weather. There is also a huge playground which is securely gated and is separated for each age group which allows your child to get up close and personal with nature, and also have fun playing on all the various toys that we have.
Children Choose For Themselves
We provide Toddler, Preschool, PreK, Kindergarten, and After School programs that use the Montessori method at our Danville location (not far from San Ramon, BTW), which allows the children themselves to decide what they want to learn about. There is a huge range of Montessori materials from which each child can choose the things that spark his or her interest and this is what makes learning so much fun for them. Rather than sitting on the floor listening to a teacher talking about something which may, or equally may not, interest them, they find things that do interest them and of course that makes them want to learn more. The children learn by doing, using all their five senses rather than by listening.
Because they are all doing different things at different times there is no sense of "competing" with other children and there is no rush. They can complete whatever they are learning about in their own time. Some children are slow learners while others are faster, but with the Montessori method it doesn't matter. The teacher keeps an eye on the progress of each child and introduces more new materials when the time is right.
All this makes learning fun, rather than a task, and is why our children progress faster than in other Danville schooling options.