If you are looking for Montessori programs in San Ramon, California, the best Montessori preschool is in Danville. All right, it is not actually IN San Ramon, but it's only a few minutes' drive, and Learn And Play Montessori is just off the 680 at 730 San Ramon Valley Blvd. We have become the preschool of choice for parents in Danville, and in San Ramon, Alamo, Diablo, Blackhawk, and even Walnut Creek.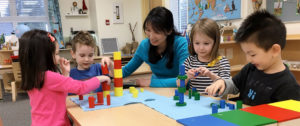 We have eight spacious classrooms which have extended windows to let in the maximum amount of natural light which enhances the academic environment, and in each classroom there is plenty of space for the children to move around freely and explore all the Montessori materials which we provide. There is also a spacious playground at the rear of the school which the children can play in and develop their gross motor skills while being up close and personal with nature.
With the Montessori method of teaching, children choose the activities that they wish to get involved in and work at their own pace. The result is that they enjoy what they are doing and learn because they want to rather than because they have to. They learn to love learning.
No Competition; Part of the Montessori Method
There is also no sense of competition because there are no deadlines or targets to reach and they are doing something different from their peers a lot of the time anyway. The goal is to give each child individual attention and the teacher will introduce the child to new ideas and materials when he or she deems it appropriate. The children discover and develop values such as responsibility, integrity, honesty, kindness, and respect for others. The older children can help the younger ones as they develop, and this reinforces their own learning.
All of the teachers at Learn And Play Montessori are fully trained and certified in the Montessori method and have strong educational backgrounds. They prepare the classrooms and the materials, and the school is organized in such a way as to allow the child to explore freely an environment which is responsive to each child at every stage of his or her development.
The curriculum covers practical activities that happen in real life – math, language, science, geography, music, art, and a second language, in this case Spanish, which will be so useful to the child as it grows into an adult.
So if you want the best of the Montessori programs in San Ramon, then we invite you to come up and see what we do at Learn And Play Montessori in Danville.