Danville has its' fair share of "stay at home" moms (and dads!) but even they can benefit from Danville daycare. This is not just for the sake of their sanity, although that's a big plus, but is good for their kids too because they learn to socialize.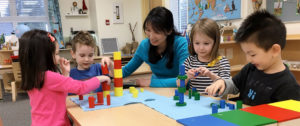 Now that is a huge benefit – a real win-win. You get some peace and quiet at home when you can get on with all the things that you need to do, and your kid is learning and playing amongst his peers.
Our Danville daycare at Learn And Play Montessori opens at 7.00 am and doesn't close until 6.30 pm, so it is ideal for those who don't stay at home but have to commute to work every day. Depending on your own wishes, you can let your child learn and play for a couple of hours, or we can take care of him all day: it's entirely up to you.
Your Child Will Enjoy Himself
What we can tell you is that the time your child spends here will be time that he enjoys. With the Montessori method of learning each child chooses for himself what he wants to learn about. Our Danville daycare campus is a Tudor cottage style building and has eight large and bright classrooms which are packed with top quality Montessori materials. Each child is free to roam the classroom on his own and select things which interest him. Because he is making his own choices, he wants to explore more and learn more. So by working this way each child very quickly comes to love learning.
This is so much better than having to sit down and listen to a teacher talking about something that may be of no interest at all. Our children learn by doing, using all their five senses, rather than sitting listening and only using one sense. Furthermore, each child is allowed to progress at his own rate, because there are no expectations or things that he has to finish within a certain timescale. The teachers keep an eye on how the child is progressing, and when the time is right will introduce further Montessori materials from which he can choose.
There is also no element of competition because by and large each child is doing something different from the next one. We have a range of ages in each class, and very often the older children will help the younger ones which is great because they are learning to socialize and get on with their compatriots.
So whether you are a "stay at home" mom or a commuter, come over to our campus and take a look at just how well the children are getting on.