Being a working parent in the 21st century isn't easy. It is even less easy if you are two working parents, which many couples are. That makes it more difficult to find a Danville kindergarten that provides the long hours that you need.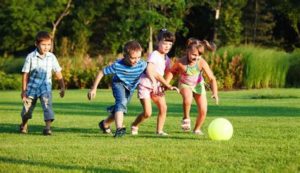 Fortunately, at Learn And Play Montessori in Danville we are open early in the morning and stay open until early evening, so we are ideally situated for most parents. We are also just off the I680 which is even better if you commute because you can drop your child off at our Danville kindergarten on the way to work and pick him or her up again on the way home.
We provide part time, full time, and after school child care programs, so parents can select whatever they need. We also make it easy to chop and change because we work on a month to month basis rather than a full term or year, so you can fit your child's kindergarten around your own lifestyle and work requirements.
Situated where we are in Danville, we are totally convenient for parents from Blackhawk, Alamo, Alamo Oaks, Diablo, San Ramon, and even Walnut Creek.
At Learn And Play Montessori in Danville our campus is housed in a Tudor Cottage style building and has no fewer than eight very large classrooms which are stocked with the finest Montessori materials and allow for endless learning opportunities for those bright young inquisitive minds. The Montessori method of learning works on the basis that the child is allowed to learn what he wants to learn. So he can wander around the classroom and pick out the things which interest him as opposed to sitting listening to a teacher talking about something in which he might have no interest at all.
The Child Learns Because He Wants To
The result is that he learns because he wants to learn rather than because he has to learn, which means that he is exploring the world on his own terms. The child also learns by using all five senses and doing things rather than listening, which results in a much more comprehensive grasp of the subject about which he is learning.
Furthermore, there is no rush. Some children learn faster than others and that is fine. They are not held back, because the teacher will introduce them to new materials when they are ready for them. Equally, children who are slower learners will not feel inferior to their peers because there are no targets. Each child proceeds at his own pace.
If you are looking for a Danville kindergarten, come and take a tour around Learn And Play Montessori. We welcome parents between 9.00 am and 5.00 am Monday to Friday.