Danville is a small town and has a wonderful "can do" attitude. Parents in our school have "never met a stranger."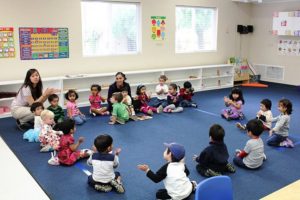 Well, we hope you can join us at the best-in-class preschool to "make new friends" and "keep the old."
And why not? At Learn And Play Montessori in Danville we are the first choice for many parents who are looking for Danville, CA, preschools for their child. In fact, a lot of our parents never look anywhere else because they have been recommended to us by friends or family members.
But if you are looking for Danville, CA, preschools for your child and don't know anything about us, let us explain what we do.
We are on San Ramon Blvd in Danville, just off the I-680, so we are very convenient for parents who have to commute. We also open at 7.00am and remain open until 6.30pm so we are very convenient from that point of view as well, since you can drop your child off on the way to work and pick him or her up again on the way home.
Eight Large Classrooms And A Huge Playground
The campus is a spacious Tudor cottage style building with eight very large classrooms and a playground outside that is huge and is securely gated. It is divided into areas by age so that the toddlers can play separately. We provide day care, preschool and kindergarten for children from 18 months to 6 years of age. We know that parents are busy, and we offer a choice of part time, full time, after school, and child development programs to fit in with your lifestyle.
The Montessori method allows the children to walk around the classroom looking at the huge choice of Montessori materials that we provide until they find something that interests them. When they do, they can pick it up, play with it, explore it, look at pictures, or whatever the material is, and learn about what it is and what it does. This is why the Montessori method works so well because each child is learning about something that interests him or her, and quite naturally wants to find out more about it.
At Learn And Play Montessori our children don't sit on the floor or at a desk listening to a teacher talking. Rather, they use all their five senses to explore and find about something that interests them, and this sets them off on a path of lifetime exploration. Our children learn because they want to rather than learning because they are being told that they have to.