If you are looking for San Ramon preschools for your child, you're in luck. At Learn And Play Montessori we have two preschools very close by – a preschool in Dublin California and a preschool in Danville.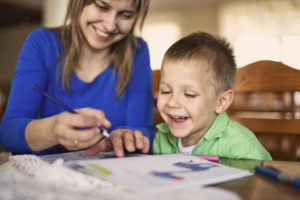 Whichever way you commute up or down the I-680, we are very near. Our Danville location is on San Ramon Valley Blvd while the Dublin one is on Silvergate Drive, so both are very easy to get to.
Our Dublin campus has five very large and light classrooms which are filled with high quality Montessori materials which are sequenced and from which the children can choose. The Montessori method allows the child to select from all the materials things which spark interest and play with them and learn about them. This means that, right from the very start, the child is learning about something because he, or she, wants to do so. Our Dublin preschool also has a gated playground very near to the school, so that the children can learn and play outside whenever possible.
The Danville preschool has no less than eight large classrooms set in a Tudor cottage style of building. It also has a huge playground which is divided up by age groups so that all children can play safely and interact with nature. The Montessori method is an educational approach grounded in the belief that children learn best within an environment that respects and nurtures their individual and unique capabilities and this school provides them exactly that.
Open For Long Hours – Preschools that Work for Parents, Too!
Both of these San Ramon preschools are open for very long hours, from 7.00 am to 6.30 pm, which is ideal for busy Bay Area working parents who find the public preschool hours far too short. Unlike the public preschools, we don't expect parents to work around our hours: instead we work around yours. So whether your job requires you to start early in the morning, or work late, or possibly even both on some occasions, we can accommodate you.
We also provide a range of different programs over periods of 2, 3, or 5 days a week. These can be half day programs, extended day programs, full day programs, and after school programs, so we have you covered whatever your requirements.
If you are looking for San Ramon preschools for your child or children, we invite you to book in for a school tour at a time to suit you so that you can see exactly what we do and what the classrooms look like. In fact, why not book in a school tour for both Danville and Dublin? Then you can see which one you prefer.