There are some very good kindergartens in Danville, both public and private. (There are also some that we have had reports of that don't seem to be so good).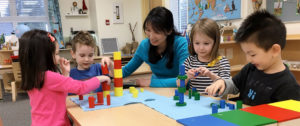 However, even the good public kindergartens have a major problem if you have to go to work, as many people do these days, and that is the hours.
They don't open at a convenient time and they close far too early for most parents who have a full-time job. They also shut down for nearly three months in the summer. All of that makes them less than a perfect choice for families with two parents who have to work in order to bring in a decent income.
What that really means is that if you have to go to work all day you are really only left with the choice of a private kindergarten if you want the best for your child. The public schools don't offer nearly as much teaching time to your child, so even if you can live with their very short hours and weeks off in the summer, your child is not going to get anywhere near as much learning as in a private school.
Finding a Best-in-class Danville Private Kindergarten
So a Danville private kindergarten is really the only answer and if you want Danville's best kindergarten, it's Learn And Play Montessori. We have no less than six Montessori preschools and kindergartens in the East Bay Area, and Danville is our latest. It is ideally situated on the I680 and so is attractive to parents living not just in Danville, but in Diablo, San Ramon, Blackhawk, Alamo, and Walnut Creek as well.
What's more, we open at 7.00 am and we don't close until 6.30 pm so we can take care of your child whatever time you have to start or finish work. As Danville's best kindergarten, it also means that your child will get a lot more tuition and learning time than he or she ever would in a public school, which we firmly believe is the most important thing of all.
Over the last few years it has been found that all of us do the vast majority of our learning in the first six years of life, so preschool and kindergarten is critical. Not only that, we use the Montessori method of learning which you may or may not fully understand. If you do, then fine: you will know why we are already known as Danville's best kindergarten.
If not, we welcome you to read more on our website, and we also welcome all parents to visit the school and see what we do on a "drop in" basis Monday to Friday from 9.00 am to 5.30 pm.