If you live in Blackhawk and you need Blackhawk preschool programs for your child, you really don't have very much choice in the town itself.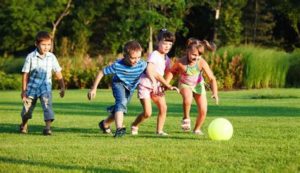 You will know that it is mostly residential, and the prices are very high even for the Bay Area, so your nearest Blackhawk preschool programs are in Danville. After all, we're only 15 minutes' drive away along Blackhawk Dr and Camino Tassajara, and if you have to commute on the I680 it's absolutely ideal.
Not only that, Danville is where you will find Learn And Play Montessori and if you want the finest preschool and kindergarten for your child, this is where you will find it. Our spacious school is built in a Tudor cottage style and has eight large and bright classrooms filled to the brim with the finest Montessori materials from which every child can choose whatever piques his interest.
Freedom Of Choice in terms of Preschools
This is one of the beauties of the Montessori method, because it allows the child freedom of choice. So the child finds something interesting, and of course because it is interesting he wants to learn more about it. This means that with the Montessori method the child learns because he learns to love learning – exploring and finding out more about whatever it is that interests him. Our children don't sit on the floor listening to a teacher talking. Rather, they learn by doing, using all of their five senses, not just their ears.
A Large Playground
We also have a wonderful gated playground at the school where the children can play and learn about Mother Nature. It is large enough to be separated by age groups, so the toddlers can play safely away from their bigger peers.
When you are working parents, using a public preschool can be a major headache. Apart from anything else, the hours that they are open just don't fit in with the work schedules of most people, and then they also shut down in the summer for weeks on end. At our Danville Montessori we are open all year round from 7.00 am to 6.30 pm because we work on the principle that we have to fit around you, not the other way around!
This also means that your child gets many more hours of education than he would in a public school. Our classes are smaller too, so your child gets much more individual attention than in a public school where the classes are very large. The teacher will watch what your child is doing and how he is progressing, and then introduce more materials at the appropriate time when he is ready for them.
So if you are looking for Blackhawk preschool programs, we'd suggest coming to Danville.